FRIDAY  INTENSIVE
Friday 7 February 14.00 – 18.00
Gudrun Herold with the participation of Tribal Nova Acoustic
"Corpo Libero" Gym in Ronchi dei Legionari (GO).
In Friday Intensive we want to create a group of motivated dancers for a live music performance project that will be staged during the 200% ATS® Hafla on Saturday 8 February 2020:  Friday Intensive will be led by Gudrun Herold with the participation of Tribal Nova Acoustic, acoustic trio composed by violinist Simone D'Eusanio, accordionist Aleksander  Ipavec and drummer Ermes Ghirardini. Our goal is to create a performance that best represents our dance and is inextricably linked to the theme of this 200% ATS® edition "Sounds from a long journey".
200%ATS® Workshop
Saturday 8 February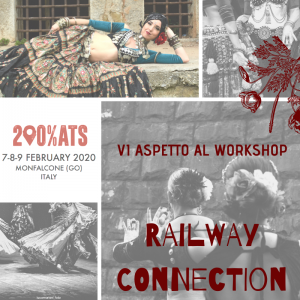 10,30 – 12,30
Patrizia Pin – RAILWAY CONNECTION
As a railway connection an unclear cue or a not catch on time should lead us in a wrong direction: very funny when we're dancing with our tribe at the studio but not that much when we're on stage in front of an audience.
Wich is the cue that you so often miss? Wich combination of steps makes you cold sweat?
With improvisational exercises for concentration and perception and ATS® tecnique we'll study some cues from fast and slow vocabulary that are most likely to bring us in the wrong direction gettin' us lost.
Book it -> https://forms.gle/iBfkJNX5WpsEofvT9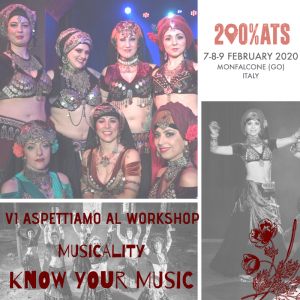 13,00 – 15,00
ATS MOOD Milano – MUSICALITY
Music drives our dance and our improvisation. We learn to know it before a performance, analyzing its structure, flavor and the dynamics of the song are going to dance. This work will allow us to be more in tune with the music and the group, making the performance more fluid even for the audience.
Book it -> https://forms.gle/iBfkJNX5WpsEofvT9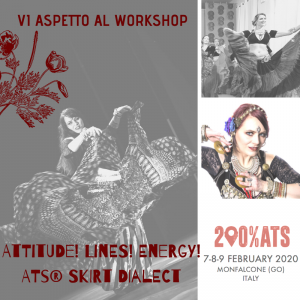 15,30 – 17,30
Gudrun Herold – ATTITUDE! LINES! ENERGY!
Props in ATS® Bellydance are fun and offer a different flavour to our core vocabulary. I developed my ATS® Movement Dialect with the Skirt exactly for that purpose: to create variation and offer something "different", yet fully in line with the concepts of ATS® Bellydance.
Now – to me flavour and variation are not only a question of simply putting a skirt into my hands, they go beyond the technique and touch the concepts of stylization, attitude and energy, as well as the question to which shapes and lines we are creating. Let's dwelve a bit under the surface, and explore some of ideas for slow and fast ATS® Movement Dialect with the Skirt, to add flavour and texture to your dance!
Participants should have some experience with the ATS® Movement Dialect with the Skir.
Please bring a 25 yd ATS® skirt.
Book it -> https://forms.gle/iBfkJNX5WpsEofvT9
20,30 – 22,00  – 

200%ATS® HAFLA!
All dancers are welcome
Sunday 9 February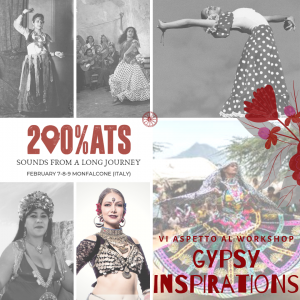 10,30 – 12,30
Isabel de Lorenzo – GYPSY INSPIRATIONS
Let's have a look on some ATS® movements inspired by Romani dances from India, Egypt and Spain, feel their original gypsy flavour and observe how they've been adapted to our vocabulary. Theories and technique (slow and fast). Then, it's time to dance in duets, trios and quartets, with a magical playlist! All ATS® levels are welcome. Props: zills.
Book it -> https://forms.gle/iBfkJNX5WpsEofvT9
200%ATS® Practice – Sunday 12,45 –  13,45
Lorena Piaia – Practice Class
Often dance Workshop do not leave much time to the practice of the movements and  formations: we have thought of giving the possibility to develop this muscular memory immediately!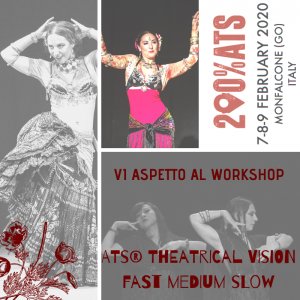 14,00 – 16,00
Francesca Pedretti – ATS® THEATRICAL VISION
FAST MEDIUM SLOW
The "journey" that I propose in this WS is a crossing of time and its energies, in a musical and chronological way! FAST MEDIUM SLOW are different speeds that correspond to three phases of life, the time of discovery,  maturity and  reflection.
Open Level – Props: zills.
Book it -> https://forms.gle/iBfkJNX5WpsEofvT9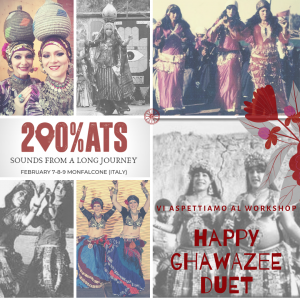 16,15 – 18,15
Isabel De Lorenzo&Gudrun Herold – HAPPY GHAWAZEE DUET
Get playful with the (fast) ATS® repertoire! We are exploring North African nomadic inspirations, focusing on the Ghawazee heritage, playing with earthy Egyptian flavored steps and bringing it into a fun concept for two dancers.
Technique, improvisation, interpretation and stylization!
Open Level.  Please bring zils.
Book it -> https://forms.gle/iBfkJNX5WpsEofvT9
The practice is free participation
200%ATS® CLOSING PARTY
18,30